Courtroom View Network maintains the only online video library in the world showcasing top attorneys from the country's premiere defense firms in trial, defending prominent corporate clients in high-stakes cases before real live juries.
For the latest installment in CVN's ongoing "BigLaw Spotlight" series, we are highlighting selections from CVN's trial video library involving nationwide defense stalwart Gordon Rees Scully Mansukhani LLP.

Founded in San Francisco in 1974 and still maintaining strong roots in California, Gordon & Rees as the firm is more commonly known has since grown into a national firm with over 1,000 attorneys. In 2019 Gordon & Rees became the first law firm in the country with active offices in all 50 states.
A year later, Gordon & Rees landed a spot on the Am Law 100 list of nations' highest grossing law firms, coming in at #96 with gross revenues of nearly $400 million in 2019.
While the firm maintains a broadly diverse range of practice groups spanning from media & sports to government & administrative law to data & cybersecurity, their presence in CVN's trial video archive mostly consists of the types of cases that proceed to jury trials in state courts, with a focus primarily on toxic tort (especially cosmetic talc cases) and medical and pharmaceutical device product liability litigation.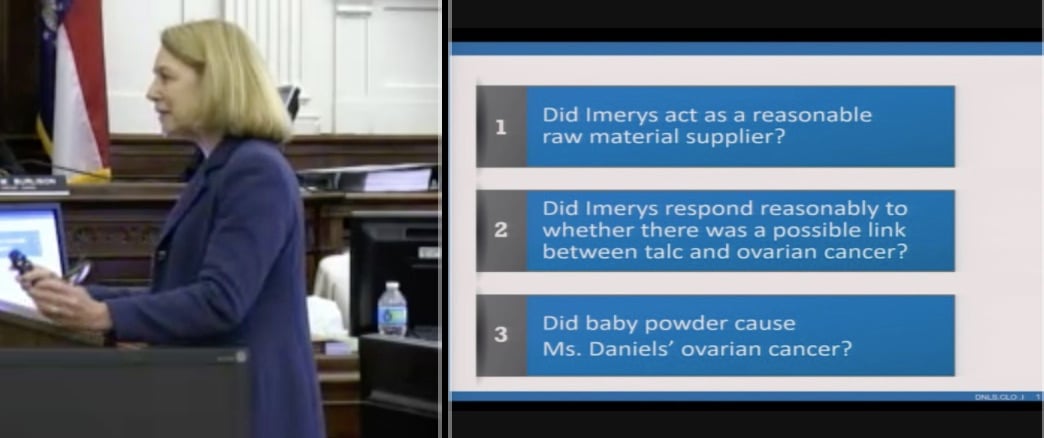 CVN screenshot of Gordon & Rees partner Ann Thornton Field delivering her closing argument on behalf of Imerys in a Missouri state court cosmetic talc trial 
Check out the below highlights featuring some of this rapidly growing firm's top trial pros, and become a CVN subscriber for just $99/month with no contract for unlimited on-demand access to high-quality gavel-to-gavel recordings of all these trials and hundreds more featuring the country's most elite defense firms and their most accomplished jury trial specialists.
With a CVN video library subscription, members can…
– Watch Houston, Texas-based partner Philip Brinson successfully defend medical device manufacturer Cynosure in a trial over claims an allegedly defective fat removal laser caused injuries to a celebrity plastic surgeon's patient.
– Watch Dallas, Texas-based partner Edward Slaughter successfully defend Colgate in a cosmetic talc trial in Kentucky state court
– Watch Portland, Oregon-based partner Nancy Erfle, along with Philadelphia-based partner Ann Thornton Field and Texas-based partner Michael Klatt deliver a crucial defense win for Johnson & Johnson's talc supplier Imerys at a trial in Missouri state court over claims J&J's talcum powder causes ovarian cancer.
– Watch Michael Klatt also participate in a critical "science day" hearing in California state court ahead of the first trial in the state over J&J's cosmetic talc products
– Watch Texas-based partner Kenneth Ferguson defend Imerys at another of the high-profile initial trials over J&J's cosmetic talc products in Missouri state court, one of the key hubs for talc powder litigation.
– Watch Erfle and Ferguson limit Imerys' liability to just 10 percent in another of the initial J&J cosmetic talc powder trials in Missouri
– Watch Joseph Hardy, formerly a partner with Gordon & Rees and currently a state court judge in Nevada, successfully defend Takeda Pharmaceuticals in a high-profile lawsuit over claims their popular diabetes medication Actos allegedly caused bladder cancer
These trials make up just a tiny fraction of the hundreds of cases available in CVN's trial video archive. Become a CVN subscriber today and start watching and learning from these elite litigators firsthand, a privilege that previously was only available to people willing to travel to court.
Also check out our previous BigLaw Spotlight entries, and stay tuned for more as the year rolls on!
Think your firm deserves recognition in CVN's BigLaw Spotlight series? Email CVN editor at dsiegel@cvn.com