In September 2019, Valisure, an online pharmacy based in Connecticut, informed the U.S. Food and Drug Administration that it had found the cancer-causing chemical N-Nitrosodimethylamine, or NDMA, in some batches of Zantac and its generic, ranitidine.
Retailers including Walmart, Walgreens, CVS and Rite Aid pulled prescription and over-the-counter formulas of Zantac from their shelves. And 14 generic manufacturers and Zantac's brand-name manufacturer Sanofi recalled the medication in the United States.
On April 1, 2020, the FDA announced it was requesting manufacturers of all ranitidine products remove prescription and over-the-counter ranitidine drugs from the market. The agency said new FDA tests show a risk to public health.
Zantac lawsuits claim Sanofi and other defendants knew about the dangers of NDMA in Zantac but failed to properly warn the public. People who developed cancer — especially bladder and stomach cancer — may be entitled to compensation.
This isn't the first time manufacturers found NDMA contamination in drugs. In 2018, contamination led to valsartan recalls and lawsuits. But unlike valsartan, which was contaminated with NDMA during manufacturing, Zantac lawsuits claim ranitidine actually forms NDMA in the body.
In February 2020, the United States Judicial Panel on Multidistrict Litigation consolidated the lawsuits in the Southern District of Florida under U.S. District Judge Robin Rosenberg. In its transfer order, the panel said the anti-acid drug cases "could be a large litigation."
According to the panel's Feb. 17, 2021, statistics report, 562 cases were pending in MDL No. 2924.
The valsartan lawsuits were consolidated into MDL No. 2875 in February 2019. There are currently 713 cases pending in that litigation.
Cancers Linked to Zantac
People who have taken Zantac and filed lawsuits reported a wide variety of cancers linked to the drug and NDMA.
Many doctors who diagnosed people with cancer after taking Zantac said they had no family history or genetic markers for cancer, according to Zantac lawyers. Instead, doctors told patients it was caused by something from their environment.
Exposure to NDMA or other chemical toxin is a potential environmental cause of cancer.

Cancers that qualify for Zantac lawsuits include:

Bladder cancer and bladder removal

Breast cancer

Colon cancer

Esophageal cancer

Kidney cancer and kidney removal

Liver cancer

Melanoma

Ovarian cancer

Prostate cancer

Stomach cancer
This isn't an all-inclusive list. Attorneys are accepting cases with many types of cancer. If you developed any kind of cancer after taking Zantac, make sure you contact an attorney to see if you qualify to file a lawsuit.
Other Health Issues That May Appear With a Zantac Cancer Diagnosis
Doctors who diagnosed people with cancer after taking Zantac also diagnosed them with primary pulmonary hypertension (PPH) and Crohn's disease.
PPH is a rare lung disorder that causes high blood pressure in the lungs. It happens when the blood vessels in the lungs narrow and raises the pressure in the pulmonary artery above normal levels.
Crohn's disease is a type of inflammatory bowel disease. It causes the digestive tract to become inflamed and this causes severe diarrhea, abdominal pain, cramps and weight loss.
Speak with a Top Zantac Lawyer
Were you diagnosed with stomach cancer or bladder cancer after taking Zantac?
Pharmacy Detected "Extremely High Levels" of NDMA
Valisure alerted the U.S. Food and Drug Administration that it "detected extremely high levels of N-Nitrososdimethylamine ('NDMA'), a probable human carcinogen, in every lot tested, across multiple manufacturers and dosage forms of the drug ranitidine," according to its citizen petition.
The FDA has determined that daily intake of NDMA should not exceed 96 nanograms — one billionth of a gram. When Valisure tested individual tablets, it found 2,511,469 ng of NDMA in Zantac OTC and 3,267,968 ng of NDMA in Zantac Cool Mint from CVS.
Fact
The FDA has determined people should consume no more than 96 nanograms of NDMA a day. Valisure's lab testing found some Zantac formulas contain more than 3,000,000 ng per tablet.
The FDA has said that Valisure's method of high-temperature testing may have increased the levels of NDMA in samples, but still reported unacceptable levels of the contaminant after "early, limited testing" of the samples using a low-heat method.
New FDA testing found the level of NDMA in ranitidine may rise above the acceptable daily intake limit when the drug is stored at higher temperatures and even when it's stored under normal conditions. Testing also showed that the longer the length of time since the ranitidine product was manufactured, the greater the level of NDMA.
Dangers of NDMA
While the Agency for Toxic Substances and Disease Registry doesn't have adequate studies to show how exposure to NDMA in food or drink may affect humans long term, evidence shows NDMA can cause cancer and death in animals. It is also very toxic to the liver in animals and humans.
In a public health statement, the agency said, "Although there are no reports of NDMA causing cancer in humans, it is reasonable to expect that exposure to NDMA by eating, drinking, or breathing could cause cancer in humans." Exposure to NDMA doesn't necessarily lead to health problems.
Organs potentially affected by NDMA include the bladder, brain, liver, kidneys, lungs and stomach, according to a report by the World Health Organization.
In December 2019, Congresswoman Rosa L. DeLauro urged the FDA to remove ranitidine from shelves and ban all sales in the United States because of the cancer risk.
"Valisure's data, in combination with four decades of scientific research, strongly suggests that ranitidine is a fundamentally unstable molecule and all products containing this drug have a risk of cancer," DeLauro said in her letter to the FDA.
Plaintiffs Claim Defendants Failed to Warn About Cancer Risk
The main claim in individual Zantac lawsuits is that defendants failed to properly warn the public of the dangers of NDMA and cancer. While Zantac's active ingredient may cause other side effects, these are not a part of the lawsuit claims.
Lawsuits argue ranitidine is unstable. It can form NDMA when exposed to stomach conditions or a substance called nitrite found in some foods like grilled meat or preserved foods including bacon or hot dogs.
Ranitidine Linked to NDMA Formation
Lawsuits argue that as far back as 1981, drugmakers were aware of several studies pointing to the dangers of NDMA formation with Zantac. The studies found that the potential of forming NDMA increases when ranitidine makes contact with nitrite in the body, according to a lawsuit filed by Michael and Deborah Combs.
The Combs' complaint lists other more recent studies that connect ranitidine to NDMA formation. One 2011 study by Ruqiao Shen and Susan A. Andrews observed that ranitidine could form NDMA when exposed to drinking water disinfected with chlorine.
Another cited study from 2016 by Teng Zeng and William A. Mitch found evidence suggesting ranitidine could form NDMA when combined with nitrite in "stomach relevant pH conditions." They also found NDMA excreted in the urine over a 24-hour period after taking ranitidine "increased 400-folds from 110 to 47 600ng, while total N-nitrosamines increased 5-folds."
Despite this information, lawsuits say drugmakers failed to warn the public.
Joseph L. Galimidi Sued Sanofi for Breast Cancer
Florida resident Joseph L. Galimidi was one of the first to file an individual Zantac lawsuit in the United States against Sanofi on Sept. 13, 2019. Galimidi had been taking Zantac since 2009 and developed breast cancer, which is rare in men, in 2013.
He demands compensation for his injuries, pain and suffering.
"Despite their knowledge of the risks of cancer associated with Ranitidine and Zantac … Defendants continued to represent that Ranitidine products, including Zantac, did not pose any risks of cancer or other serious health conditions."
"While his heartburn was healed, Zantac — laden with N-Nitrososdimethylamine ("NDMA"), a probable human carcinogen — wreaked havoc in his body and led to his breast cancer," Galimidi's complaint said.
During the time Zantac and other ranitidine products have been sold in the United States, there have been reports of cancers linked to Zantac. Galimidi argues Sanofi had plenty of time to study the link and warn the public, but it did not.
Mark Allan Blake Said Zantac Caused Bladder Cancer
Colorado resident Mark Allan Blake filed his Zantac lawsuit against Sanofi US Services Inc., Chattem, Inc., Boehringer Ingelheim, Pfizer and GlaxoSmithKline on Oct. 21, 2019.
Blake started taking prescription Zantac in 1996. He then switched to Zantac OTC which he took four times a week. Doctors diagnosed him with bladder cancer in 2018, and he believes the drug caused it.
According to Blake's complaint, research has shown that Zantac can produce high levels of NDMA since at least 1981. Manufacturers should have known this and warned the public, but they did not.
"This was not done by accident or through some justifiable negligence. Rather, Defendants knew that it could turn a profit by convincing consumers that Zantac was harmless to humans, and that full disclosure of the true risks of Zantac would limit the amount of money Defendants would make selling Zantac," Blake's complaint said.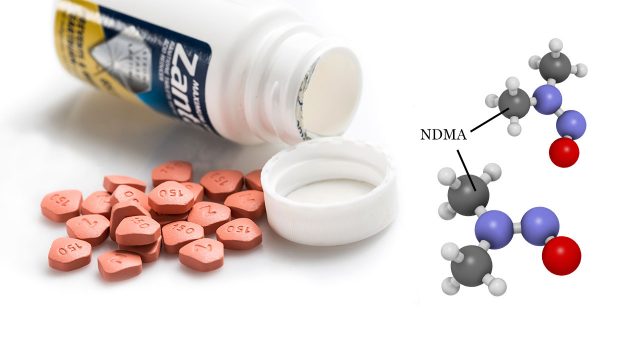 Veterans Filing Lawsuits
Zantac was a popular medication prescribed to military veterans through the VA, and now veterans are filing lawsuits after getting a cancer diagnosis.
After the FDA issued its market withdrawal notice, the Defense Health Agency (DHA) advised military beneficiaries to talk to their doctors about a prescription Zantac alternative in a communication dated April 15, 2020.
DHA advised beneficiaries taking OTC Zantac to stop taking it immediately and dispose of the medication according to FDA guidelines. DHA told patients to report any Zantac adverse reactions to the FDA.
The DHA notice didn't warn veterans specifically about cancer risk and NDMA, but it did warn that "the impurity in some ranitidine products increases over time when stored at higher than room temperatures and may result in consumer exposure to unacceptable levels of this impurity."
Download Your Free Zantac Guide
Learn more about Zantac and how to take legal action if you developed cancer after taking the drug.
Is There a Zantac Class Action?
There are several proposed Zantac class actions filed by attorneys on behalf of people in New Jersey, California, Florida, Connecticut and Massachusetts. Anyone who bought Zantac or generic ranitidine can join the class action. They don't have to have a cancer diagnosis. They only have to prove they bought the drug and did not receive a warning about the cancer risk.
Rather than claim individual injuries, these class actions say the drug is defective and that people who bought it are entitled to refunds.
"Neither Sanofi nor Boehringer ever disclosed to consumers that the drug has a critical defect: When ingested, Zantac produces in the human body high quantities of N-Nitrosodimethylamine (NDMA), a chemical that the World Health Organization has described as 'clearly carcinogenic,'" according to the plaintiffs' complaint and demand for a jury trial.
When Valisure tested Zantac "in conditions simulating the human stomach," the quantity of NDMA detected was 3,171 times more than the FDA's recommended daily limit, the complaint said. If plaintiffs had known the drug was defective, they would not have purchased it.
How Do I Qualify for a Zantac Lawsuit?
According to Zantac lawyers, people must satisfy three conditions to potentially qualify for a lawsuit — proven Zantac use, a cancer diagnosis and a connection between the diagnosis and Zantac.
Only a lawyer can properly evaluate a claim, and they can help gather medical records and evidence to build a case.
Zantac Use

Potential claimants have to prove they took Zantac or other ranitidine product. People who have a prescription can provide proof of prescription through medical records. But those who took over-the-counter Zantac must have a receipt and other evidence that shows they took the drug, such as a statement or doctor's note.

Cancer Diagnosis

The main injury claimed in Zantac and ranitidine lawsuits is cancer. Potential claimants have to have a diagnosis of a type of cancer linked to NDMA. Lawyers list stomach, intestine, colorectal, bladder, esophageal and liver cancer as the main cancers associated with NDMA in claims.

Connection Between Cancer Diagnosis and Zantac

Generally, taking higher medication doses consistently can help prove the connection. The length of time someone has used the drug also affects the case. For example, some lawyers say claimants should have taken the drug for at least a year before receiving a cancer diagnosis.
Questions Your Zantac Lawyer May Ask
What have you been diagnosed with?
Individuals filing Zantac lawsuits have been diagnosed with cancer, typically bladder and stomach cancer, by their doctor. The lawyer handling your case will want to know what you were officially diagnosed with and when.
How long did you take Zantac?
People seeking compensation for Zantac-related injuries generally had taken Zantac for at least a year before they received their cancer diagnosis. It may be hard to remember the length of time you took Zantac, but do your best to estimate this timeframe. It's recommended that you provide your lawyer with copies of your prescription or medical records to support your claims.
How are you being treated for your cancer?
Come to your consultation prepared to discuss your cancer treatment plan with your attorney as well as whether it's been working. Your treatment may depend on the type of cancer you have and the stage in which it was diagnosed.
Do you have a personal or family history of cancer?
If you or a member of your family have had cancer before, you may be more at risk of developing it again. Provide a copy of your medical records and be ready to discuss your family's medical history.
Are you experiencing any other serious side effects?
While Zantac side effects are rare, you should let your attorney know if you've experienced issues with your central nervous system, cardiovascular side effects, gastrointestinal issues, liver failure or any other serious conditions. Let him or her know about the effect these have had on your ability to perform daily activities.
Potential Settlement Amounts
It's difficult to predict a settlement amount for Zantac lawsuits because exact amounts will depend on an individual's injuries. But lawyers speculate that settlement amounts could be in the billions because thousands of people who took Zantac or its generic could claim the drug caused cancer.
Another drug that faced lawsuits because of cancer claims was Actos. The drug's maker, Takeda Pharmaceuticals, faced more than 10,000 lawsuits claiming the drug caused bladder cancer. After a handful of trials, Takeda settled about 9,000 claims for $2.4 billion.
Status of Lawsuits
Zantac lawsuits are in the initial stages, and discovery has started. It's supposed to be completed by December of 2021.
Judge Rosenberg's last batch of pretrial orders in August 2020 and September 2020 issued rules for lawyers on serving generic manufacturers, distributor, repackager and retailer defendants and for taking depositions.
Because plaintiffs in Zantac litigation allege they have cancer, Rosenberg provided rules for attorneys to take the testimonies of plaintiffs in deteriorating health. Parties may schedule expedited depositions of plaintiffs that may not survive beyond the year or may not be capable of testifying competently within the next six months.