A suspected gunman in the 2017 roadside executions of two Colorado Springs teenagers could be paroled after serving a fraction of his 30-year prison sentence.
Marco Garcia-Bravo, 24, who was moved Thursday from the El Paso County jail into Colorado Department of Corrections custody, already has a parole hearing set in October 2031, state prison records show.
Credit for participating in rehabilitative programs is likely to move that date up, even by years, allowing a potential release in well under a decade, legal experts say. 
"There's the caveat — and it's huge — that the parole board doesn't have to say yes," said retired Denver criminal defense attorney Phil Cherner, who isn't involved in the case. Prisoners who are denied parole must wait a certain interval, sometimes a year or more, before re-applying. And with bad behavior, they could be required to serve up to 100% of their sentences, making it impossible to predict individual outcomes.

'Unfair': Families of Colorado Springs teens killed in 2017 find little justice in man's prison sentence
Still, Garcia-Bravo's potential to leave prison in his early 30s highlights the gap between Colorado's criminal penalties and the length of time prisoners actually serve — a longstanding complaint among victims and their advocates.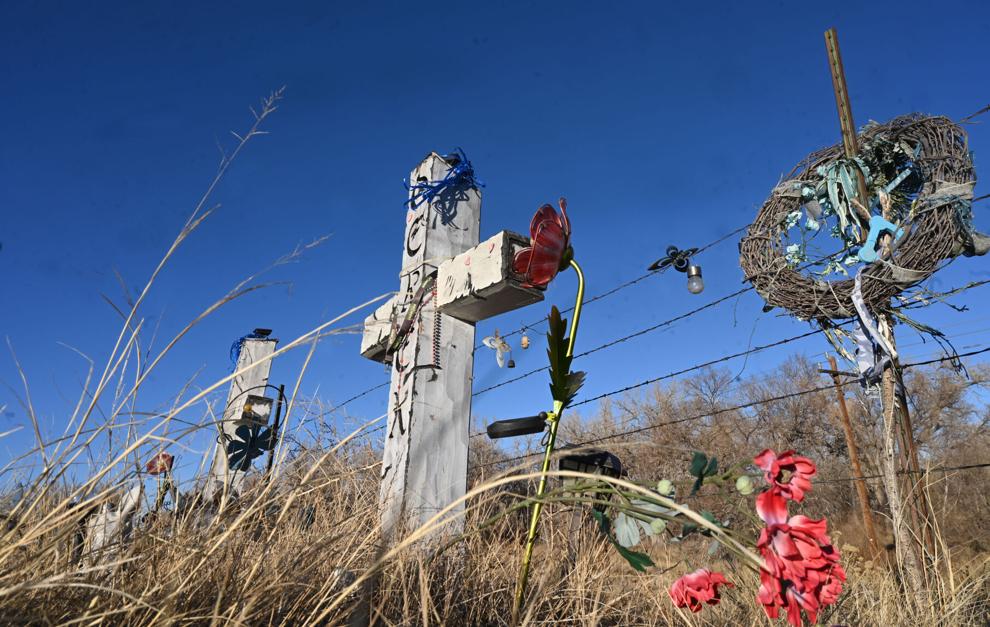 It's also likely to further inflame supporters of the slain teens, 16-year-old Natalie Cano-Partida and 15-year-old Derek Greer, who called the plea agreement a disappointment after Garcia-Bravo sidestepped both a life term and a potential death penalty.
"That is no justice whatsoever," said Jennifer Romero, founder and president of Mothers of Murdered Youth, a Colorado Springs support group. "There is something missing in our system that this could happen."
The 4th Judicial District Attorney's Office declined to address Garcia-Bravo's parole eligibility, saying it was influenced by too many factors to accurately predict.
His situation is complicated by his status as a Mexican national brought into the U.S. without permission at a young age — which a judge kept out of his trial for fear of biasing his jury. As an undocumented resident, he is subject to removal proceedings upon his release.
Authorities alleged the defendant played a key role in a gang plot in which the teens were abducted at gunpoint in Colorado Springs and driven to a remote location near Fountain, where they were made to kneel for execution-style shootings. El Paso County sheriff's deputies implicated 10 people, and identified Garcia-Bravo as one of two shooters  
Initially charged with first-degree murder, he faced the death penalty until Colorado banned capital punishment last year, leading prosecutors to drop their bid and pursue a life sentence against him instead.
The effort hit a wall in February, however, when a more than four-month murder trial ended in partial deadlock, with a jury reportedly split 11-1 in favor of acquittal on the bulk of the charges against him.
Prosecutors agreed to forgo a re-trial in favor of a plea bargain, and Garcia-Bravo pleaded guilty April 1 to two counts of conspiracy to commit two counts of second-degree murder, plus sentence enhancers that raised his potential penalty range. Court records show it was an Alford plea, meaning he acknowledged that prosecutors had enough evidence to convict him, but not that he actually participated in the killings.
Unlike in federal prisons, where inmates serve at least 85% percent of their sentences, Colorado approves parole based on factors set out in state law, which can significantly curb prisoners' time behind bars.
The tangle of rules can keep people incarcerated between 35% and 75% of their sentences, based on how their convictions are classified, and how well they behave, according to a Colorado Department of Corrections memo summarizing parole timelines.
Colorado's toughest parole standard is known as the "75% rule," meaning inmates are generally held for three-quarters of their prison terms before they become eligible for parole. It's reserved for people convicted of second-degree murder, first-degree kidnapping (except class 1 felonies), first-degree assault, first-degree arson, first-degree burglary, aggravated robbery and older convictions for first- and second-degree sexual assault.
Garcia-Bravo sidestepped that category by pleading guilty to conspiracy counts, which are exempt from the 75% rule, alongside convictions involving criminal attempts, accessory and solicitation, the memo shows.
That left him eligible for parole under "50% rule," with its more generous starting position and the chance of becoming parole-eligible at 35% after additional "earned-time credits" for participating in rehabilitative programs, the memo shows.
Factoring in his credit for time served awaiting trial, Garcia-Bravo could be parole eligible in roughly seven years, if he were to stay out of trouble and collect his earned-time benefits.  
The complexity of Colorado's sentencing and parole rules has long irked its critics, fueling momentum in recent years for "truth in sentencing" measures to simplify the process.
For example, the Colorado District Attorneys Council (CDAC) has backed a proposed overhaul of Colorado's misdemeanor sentencing schemes because it will ensure people "are held accountable in a manner consistent with the sentence that is announced to victims and the public," said CDAC spokesman Michael Teague. The bill's language has been approved by CDAC and several other groups and will be introduced later this legislative session, he said.
The effort is part of a sweeping review of Colorado laws by a Colorado Commission on Criminal and Juvenile Justice task force weighing sentencing reforms. Some of their proposed changes, like raising the age limit on who qualifies as a juvenile for the purposes of punishment, have been criticized by victims' groups for potentially hastening the release of people convicted of violent crimes.
Cindi Gelston, the spokeswoman for Colorado Victims for Justice, is among those who want to see legislators pursue more transparency in sentencing and parole laws.
"I would like them to flat be honest about what they're doing so that people really know how much time people are actually serving for crimes," said Gelston, the mother of Andrew Graham, a 23-year-old Centennial man who was fatally shot by four people in 2009 while walking home from a light rail terminal. One of those people was sentenced to 10 years and is parole-eligible after serving roughly three, she said. 
Gelston said that even if Garcia-Bravo ends up getting denied on his first try, or even his first several tries, relatives of his survivors will be forced to speak out if they want to oppose his release, as she was, reopening old wounds.
"The victims don't get a great deal of attention with all this," she said. "They forget we're out here. It's a little disheartening."