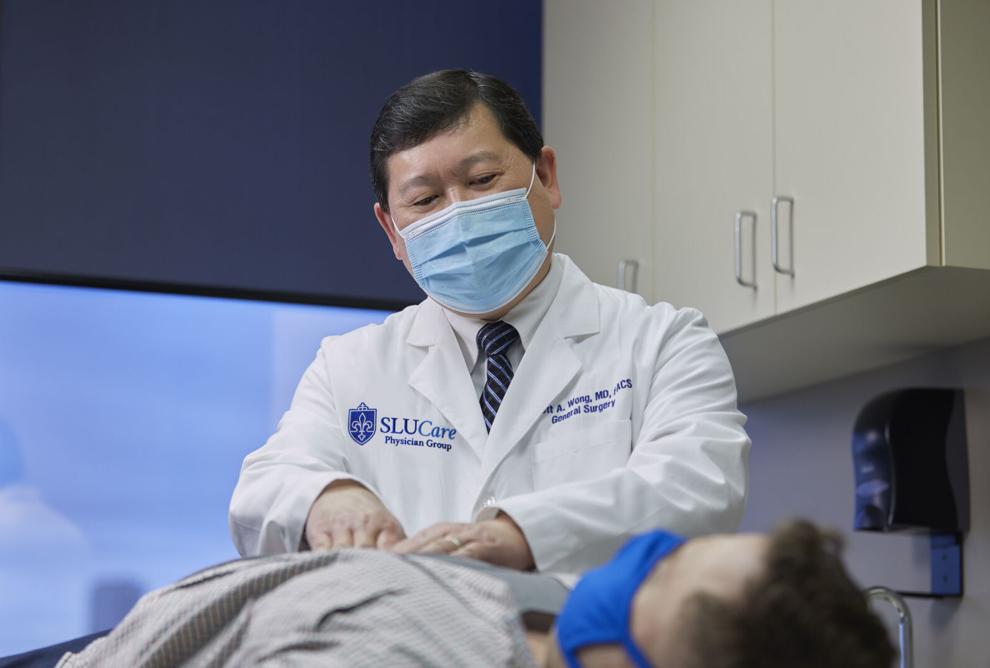 Joe H. had dealt with a hernia for nearly three decades. He first had it repaired back in the '90s, and though the recovery was tough, the repair lasted for many years. A second surgery was just as difficult, but the repair didn't last nearly as long.
"I was hobbling along for a good week or so [after surgery,]" he said. "Until you're cut in that area, in the lower groin, you don't realize how much you use those muscles. Getting up out of a chair, getting up out of bed, walking, it's harder. Recovery is a long, drawn-out process."
The third time around, Joe says, recovery was much easier. That's because his surgeon performed the surgery laparoscopically, leaving only three small incisions rather than one large one. And his surgeon, SLUCare's Dr. Scott Wong, used robotic tools to achieve it.
"I'm much happier," Joe said. "My recovery was just a few days. I feel like I'll be a lot better off long term."
Just like a human wrist
Robotically assisted laparoscopic surgery is a newer technique that allows surgeons to see their work more clearly and manipulate surgical instruments in more complex surgeries, all while sitting comfortably at a console in the operating room.
"It allows us better visualization because the picture is magnified in 3D and you can be much more precise in your dissection, which can lead to less blood loss and less tissue damage," said Dr. Wong, a general surgeon who sees patients at University Tower at 1034 S. Brentwood Boulevard and practices at SSM Health Saint Louis University Hospital and SSM Health St. Mary's Hospital.